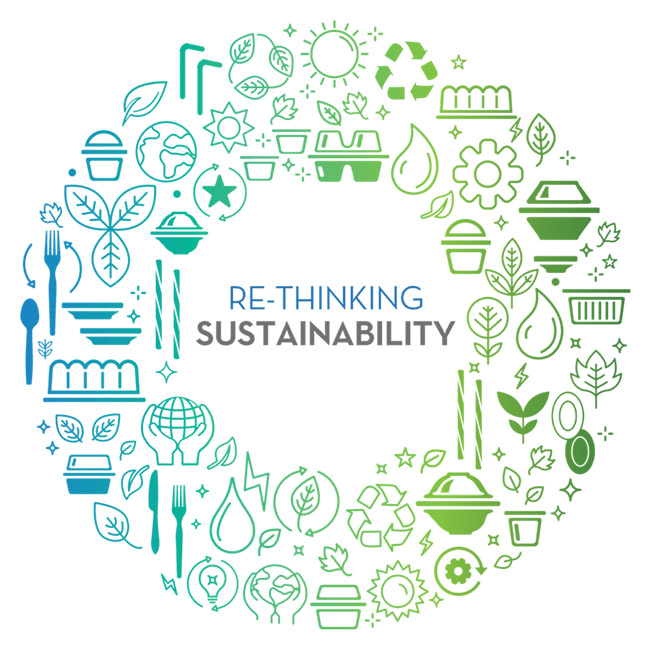 Committed to Environmentally Responsible Manufacturing Practices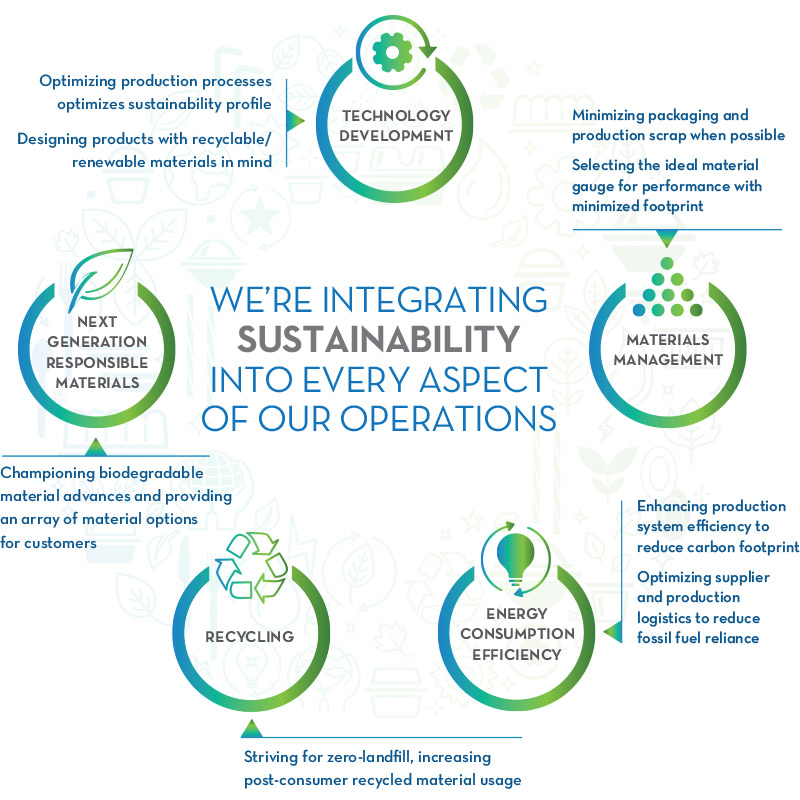 D&W Fine Pack has Developed One of the Broadest Green Product Offerings



available in the foodservice and grocery processor markets. Our packaging provides environmentalbenefits that extend from beginning of life materials through end of life alternatives of recyclability.
D&W Fine Pack Recognizes that Sustainability Goes Far Beyond the Product



That is why we are instituting initiatives that integrate real sustainability goals into every aspect of our business, from material selection, through manufacturing and logistics, to research and development.
Responsibility
In Manufacturing Processes

As we create environmentally responsible food packaging,
we assess the environmental impact to ensure that our
products are produced in an environmentally ethical
manner, a focus on reducing our carbon footprint.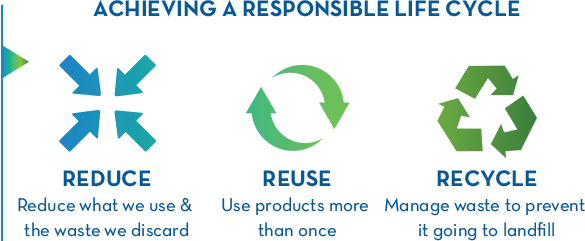 Responsibility
In Supply Operations

Our supply chain team is focused on improving our
carbon footprint by evaluating and fine-tuning
the ways our products reach our customers.
This process involves a highly data-driven approach
that yields real and lasting sustainability advancement.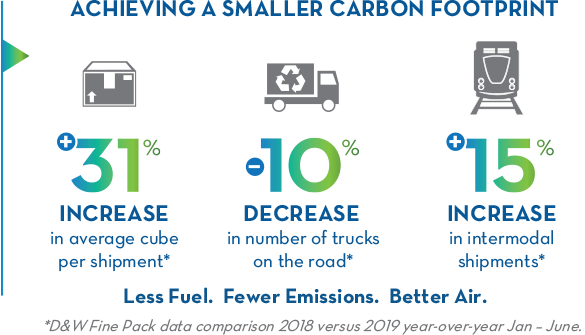 Responsibility
In Material Innovation

Every stage of our process, from product development
to product delivery, involves an integrated approach to
the environment. The design and manufacturing process
of our products is constantly reviewed in order to reduce
our environmental impact at the source. minimizing the
weight of our products and the amount of materials we
use in production.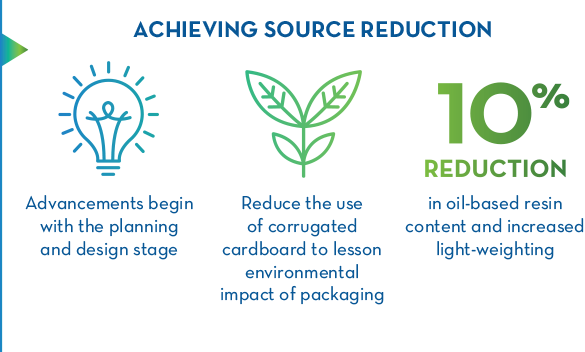 Responsibility
In Intelligent Material Use

At D&W Fine Pack we are taking responsibility for the
material choices we provide to our customers.
Our products offer beginning of life advantages, such as
being less dependent on oil-based materials and end of
life advantages such as recyclability.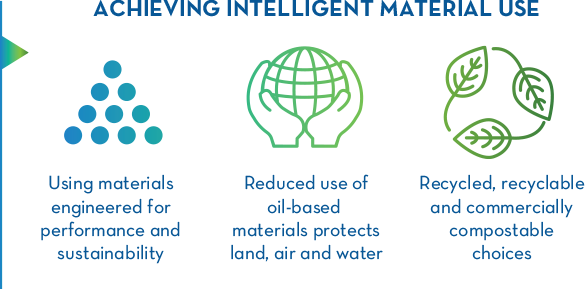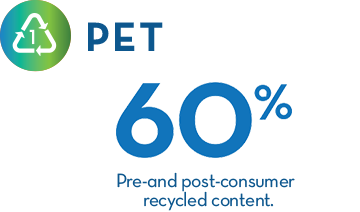 At D&W, a minimum of 60% of the PET resin that we use is a combination of internally re-processed, post industrial and post consumer.
Material Attributes
Targeted toward cold food applications for fruit and deli, take-out, bakery and catering items where clarity is important.
PET is recyclable in those communities that have recycling programs.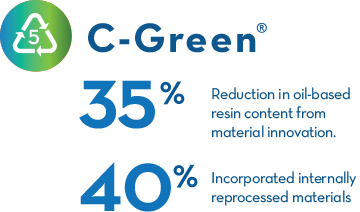 D&W's polypropylene formula, C-Green®, utilizes mineral-filled polypropylene to reduce the amount of oil-based resin usage by 35%.
Material Attributes
Heat resistant material perfect for serving hot foods and microwaveable. Top shelf dishwasher safe and re-usable. C-Green® is recyclable in those communities that have Polypropylene recycling programs.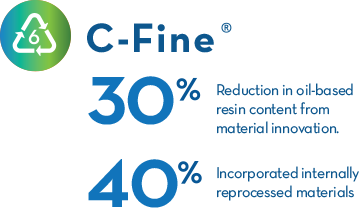 D&W's proprietary patented process enables the design and manufacture of products using 30% less oil-based Polystyrene resin.
Material Attributes
Light weight to reduce our carbon footprint yet offers great insulating properties to for both hot and cold food. Polystyrene products are recyclable in the communities where the infrastructure exist to recycle polystyrene products.
Aluminum is an economical and an environmental choice. D&W's aluminum includes a minimum of 60% recycled content. Our Aluminum meets FDA requirements and is Kosher.
D&W sells 100% of our post-industrial scrap to aluminum manufacturers
D&W sends 0% aluminum scrap to landfills
Material Attributes
Perfect for hot food applications, catering and bakery needs. Aluminum is durable, reusable, economical and highly recyclable.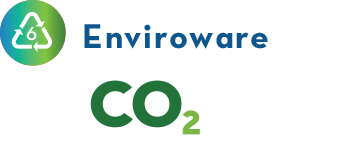 D&W's unique foamed polystyrene material is made using 100% recycled CO2 instead of a hydrocarbon blowing agent and is manufactured with an active organic catalyst (AOC) developed to accelerate the degradation rate.
Material Attributes
Heavy weight, with smaller cells to increase density making them a perfect choice for schools and cafeteria programs.
Polystyrene products are recyclable in the communities where the infrastructure exist to recycle polystyrene products.
Polylactic Acid (PLA) is a renewable material made from corn. D&W offers our own NaturesPLAstic brand across several of our product families. PLA starts from a renewable source, offering a beginning of life environmental story.
Material Attributes
Good clarity for cold food applications, such as fruit and deli, take-out, bakery and catering items. NaturesPLAstic is manufactured from naturally renewable material.
Committed to
Environmental Stewardship

At D&W Fine Pack we realize that our practices and products can affect the environment in which our employees, customers and neighbors live. At D&W we care about the footprint we leave and we believe in limiting our environmental impact. That means we take responsibility in a number of ways, from incorporating post-industrial and post-consumer material whenever possible to remaining ever mindful of our commitment to uphold responsible manufacturing practices.